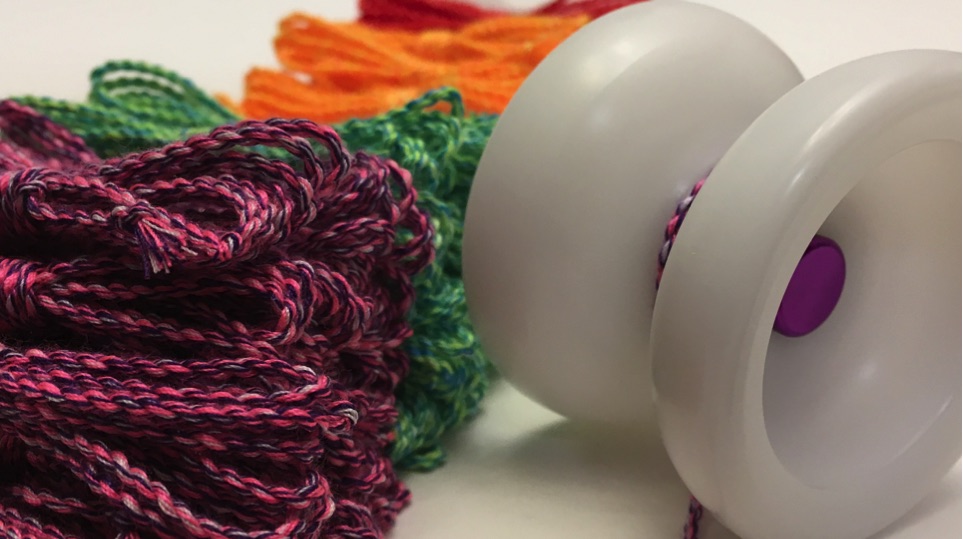 If your world is on a string, that string better last.
Family owned and operated, handmade, long lasting yo-yo strings, homegrown in Idaho, USA. Our goal is to make a premium string that feels familiar enough to what you're used to, but different enough to feel fresh and exciting. We aim to create fun color-ways that can accommodate any style of yo-yo player, and do it in a way that will always feel special and personal. From fun and upbeat to elegant and professional, we've tried to cover it all.
The short answer is 47" - unstretched and unlooped. We know that this is not on the the long side of things and that this might not be for everyone. However, we've found that we've hit a length that is still on par with quite a handful of other string manufacturers, and can easily get the job done for the majority of yoyo players. We do have plans to increase the length of our *Performance Edition* strings in the future. Most specifically, our 'Antifreez' and 'Highlighter' strings. Since producing a longer string requires altering our setup, we plan to tackle this task as soon as we've acquired a second spinning station.
The short answer is that these strings are not manufactured by machines, in factories - overseas, like the inexpensive strings that you may be referring to. We are a small, family owned business, and currently spin strings in small batches, on our humble spinning station. What we do is personal, and we put a great amount of love into it. We use unique materials, and our costs are not as low as manufacturers can obtain, and the same is true with our packaging expenses. You'll also see that we give each order a bit of TLC , that you might not experience from large string manufacturers.
Since we're producing our strings on a small spinning station, it's really impossible to mass produce at this time. To put it into perspective, spinning 100 - 150 strings, prepping, packaging, and shipping them would nearly take a full work day. Instead of selling in larger quantities to fewer people, we feel that it makes more sense for us to sell in smaller quantities to a larger number of people - really spread the love around! In addition, we work really hard to find materials that allow our strings to last longer than if we used typical bulk thread. Our goal is to produce a solid 5 pack of strings that can outlast a 10 pack of bulk poly.