ZipLine Strings are categorized into 5 main groups (Editions):
• Slushy Edition (Fun • Whippy • Grippy • Long Lasting)
• Business Class Edition (Elegant • Classy • Smooth • Flowy)
• Performance Edition (Consistent • Visible • Suited for Extended Play)
• Signature Edition (Custom Colorways and/or Blends Suited to Our Team)
• SkyLine Edition (Premium Nylon/Polyester • Super Boutiqe Blends)
When this all began, we only planned on making one type of string and put our energy into producing the 'Slushy Pack', but after a while, I felt that this was a bit constraining, and so I set out to explore other thread types and developed new blends, which could cover a broader range of play.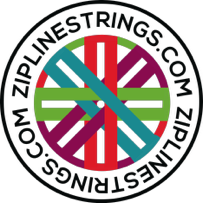 Business Class Edition
Elegant • Classy • Smooth • Flowy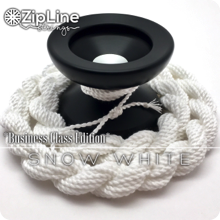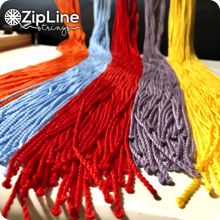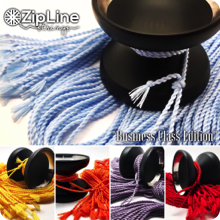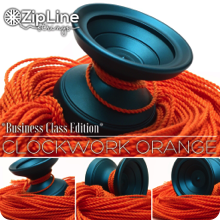 When I began experimenting with the *Business Class Edition*, I had somewhat of a slogan in my head, "When you have to wear a tie to work, but you still want to throw". The idea behind this string was to create something that would dress up the yo-yo in a way that would be much like dressing up a nice suit with a tie. I imagined a smooth, silky, elegant tie on a very high-end suit.
Right around the same time that I had this idea, Tom Velto, from Throws N' Brews had contacted me about doing some signature strings; two of the colors he had in mind were gold and orange. So, I set out to find the nicest, highest quality polyester thread in those colors. Before starting any blending formulas for Tom, I decided to spin up some solid strings using only the single thread type, just to see how they played on their own. I felt like we absolutely struck gold with these threads, and I was so excited! The thread dyes felt so smooth and elegant, just like the whole "suit and tie" thing I had conceptualized.
To make a long story short, 'Clockwork Orange' and 'Golden Eye' are the manifestation of this discovery. They are smooth, flowy, elegant, and they look and feel just perfect for dressing up the classy yoyo that you plan on taking with you to the office or maybe even to a dressy dinner party or wedding.
To take it a bit further, I developed 3 more solid colors and blended in matching colors of our core thread. While blending in our core thread, the strings tend to start off with a bit of stiffness, like our *Slushy Edition*, but the added performance benefits make it totally worth the break in period (just a few short minutes.)
Note: This formula has changed a bit from when we first opened the store. Originally, the Business Class blend was only of one thread type, which allowed them to play a bit more soft and smooth, but they didn't last nearly as long as our other strings. Utilizing our core thread blend allows these babies to play every bit as well as the rest of our collection.