When we first started ZipLine, we were commissioned by our good friend, Tom Velto, of Throws N' Brews (who soon became part of Team ZipLine,) to develop some specific colorways for him personally. These colorways were based around our tried and true multi-color Slushy formula. As we began to expand our team, this idea evolved into developing colorways for all of our team members and begin carrying their strings in our store. We felt that this would be a cool way to get our team more involved with the process and allow us to give them a commission each month. That's right, when you purchase a signature edition string, you're not only supporting ZipLine, but you're also helping us support our team. We feel that this helps boost incentive to keep doing rad stuff!
-
Tom Velto, T Mathers, and Dylan Kowalski have signature strings based around a hybrid of our Slushy Edition and Business Class blends. Tom and T's strings are of the regs variety, and Dylan chose the thick version of the slushy blend. Their color blends have some significance to each of them, individually, and are composed of unique color combos, which they helped to formulate. Tom = Tainted Love & Hulkenstein. TokYo-Yo = Bushido Baby & Notorious Ninja. Dylan = Bubble Vicious & Bazooka Blue.
-
When Paul Harness joined ZipLine, this was a big game changer. He brought a competitive edge, which required us to go beyond simply developing a new colorway. We set out to develop a new formula based on his rigorous practice and performance requirements. This was the birth of our Rhapsody string category. Paul helped us level up and create a very competition worthy string, PH22 - something a bit thinner and wound more tightly than our other strings.
***these preference tweaks promote less response friction, wider slack formation, and greater extended play. We went through a very thorough prototyping process with Paul to construct the perfect string, which he still competes and creates with today! These strings are available in 4 neon colors and white, which you can find in our webstore.
-
Shortly after Paul's string was released, we were blessed to have Keiran Cooper also join ZipLine. We set him up with our entire catalog of string types, and sure enough, PH22 was his favorite blend. We asked what he'd change about it, if he could, and he suggested that he might prefer it to be a little thicker. This lead us to begin prototyping KC24 - adding 2 thread strands and tweaking the torsion to work best with Keiran's preference and to be a perfect companion to his signature yoyo, the SF Cadence. The final result was a string more similar to what he was previously using, but a smidge thicker, and something that holds tension better and lasts at least 2 times longer. This was a huge win for us! KC24 quickly became our top selling polyester string for competitive use, and is now used by a good number of competitors within the yoyo community.
-
We next brought on Michael Acidera, who's always been a huge fan of our Performance Edition Antifreez and Antifreez+ strings. In fact, Antifreez+ was actually influenced by Michael's desire for ZipLine to carry a greener string, far before he even joined the team. Well, when we slapped hands with Michael and started talking about a signature string, of course "more green" was in our conversations. GT13 came to fruition after a bunch of prototyping. We took Antifreez+, replaced the white core thread with lime green, and slightly loosened the twist torsion; this lead us to something a little more laid back, smooth, and more green! Many throwers have described GT13 as being "just right." We'd have to agree!
-
Our next venture into signature strings came a bit unexpectedly - one of our favorite people in yoyo, Jacob Gross, messaged us inquiring about the possibility of producing a nylon/poly string, which would be exclusive to the G Squared YoYos store. Since ZipLine first started, it's been a dream of ours to work on a project with G2, and the fact that we're finally here has us swimming in the feels. G2 Jake tried out our SkyLine blends and made notes regarding things he'd like to tweak to be more in line with his preferences. Tighter twist, less sponginess, faster break in time, able to perform suicides, are just a few things I can recall from our conversations. ZipLine searched around for new nylon materials, insuring we'd have something unique to offer, and then we went to work making a ton of prototypes, all with slight variations. After much testing, Jake called out his favorite blend, and we tweaked even further. After we received the green light from Jake, we found yet another new nylon material and sent out another round of prototypes. We all fell in love with the new samples, Jake picked his favorite, and we named it the G2 Diamond Blend - giving a nod to the greatest yoyo blast/finish in history, the G2 Diamond Blast.
-
Newest addition to our team, Nathan Martsolf, brings on a fresh new challenge, as his heart is set on nylon blends. Soon, we'll be carrying our very first signature nylon blend with Nate's name on it. Stay tuned ;)
ZipLine Strings are categorized into 5 main groups (Editions):
• Slushy Edition (Fun • Whippy • Grippy • Long Lasting)
• Business Class Edition (Elegant • Classy • Smooth • Flowy)
• Performance Edition (Consistent • Visible • Suited for Extended Play)
• Signature Edition (Custom Colorways and/or Blends Suited to Our Team)
• SkyLine Edition (Premium Nylon/Polyester • Super Boutiqe Blends)
When this all began, we only planned on making one type of string and put our energy into producing the 'Slushy Pack', but after a while, I felt that this was a bit constraining, and so I set out to explore other thread types and developed new blends, which could cover a broader range of play.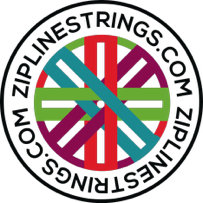 Signature Edition
various polyester colorways and/or blends, customized to our team members preferences