ZipLine Strings are categorized into 5 main groups (Editions):
• Slushy Edition (Fun • Whippy • Grippy • Long Lasting)
• Business Class Edition (Elegant • Classy • Smooth • Flowy)
• Performance Edition (Consistent • Visible • Suited for Extended Play)
• Signature Edition (Custom Colorways and/or Blends Suited to Our Team)
• SkyLine Edition (Premium Nylon/Polyester • Super Boutiqe Blends)
When this all began, we only planned on making one type of string and put our energy into producing the 'Slushy Pack', but after a while, I felt that this was a bit constraining, and so I set out to explore other thread types and developed new blends, which could cover a broader range of play.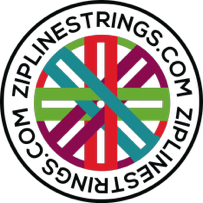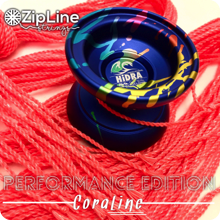 Performance Edition
Consistency • Visibility • Extended Play
We had so many requests for a neon yellow and/or neon green string. Although I knew that we'd eventually go down that road, I didn't realize how successful it would be, considering every string manufacture has strings in these colors. What could we do to make ours different? Well, this endeavor ended up being a slam dunk, in very little time. I simply applied our ZipLine core thread, but used neon green, neon yellow, and white. The color came together looking super electric and not quite yellow or green, and my wife later named it 'Antifreez'. And yes, I decided to drop the E at the end of freeze ;) Why? We'll it's like naming your kid Adysen instead of Addison; I just like the way it looks on paper, haha!
I have to add that something magical happened when discovering this string. 'Antifreez' has a slightly different feel. Typically when we blend 3 or more thread types, there's often a certain level of grippiness or roughness that's introduced into the string. However, this is much less the case here. Why? Because the dye in the neon yellow and neon green feel so similar to each other that when they are blended with our core white, the string takes on a slightly smoother feel than our *Slushy Edition* strings - right out of the gate. This allows for a shorter break-in period and we've found that it even lasts longer since it's wearing is much more evenly distributed. BONUS!!!
The performance of this string is absolutely incredible, and I love it so much that we have future plans to increase the length - making it more suitable for competition.
The *Performance Edition* strings will be an ever-growing category, but so far Antifreez, Antifreez +, Highlighter, CoraLine, Disco Pink, and Solar Flare are the colorways in our current line-up.